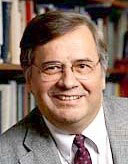 A native of Slovenia and a citizen of Croatia, Dr. Peter Kuzmic is the foremost evangelical scholar in Eastern Europe and an internationally recognized authority on the subject of Christian response to Marxism, as well as Christian ministry in post-Communist contexts. Dr. Kuzmic is also the Eva B. and Paul E. Tomas Distinguished Professor of World Missions and European Studies at Gordon-Conwell Theological Seminary and a missionary to Croatia for the Assemblies of God.
Fluent in several languages, Dr. Kuzmic completed all his studies summa cum laude. After receiving a teachers diploma and graduating from a European Bible College, his earned his B.A. from Southern California College in Costa Mesa, California; M.A. from Wheaton Graduate School, Chicago, Illinois; and M.Th. and Dr. Theol. from the University of Zagreb. In 1992, he was awarded an honorary degree by Asbury Theological Seminary.
A former pastor of two growing churches and a practicing evangelist, Dr. Kuzmic is the founding president of the Evandjeoski Teoloski Fakultet in Zagreb/Osijek, Croatia, the only evangelical theological college in Eastern Europe and the Balkans with a graduate program. He was also a co-founder and chairman of the Council of Evangelical Christians of (former) Yugoslavia, and serves as president of the Protestant Evangelical Council of Croatia and National Superintendent for the Assemblies of God. As founding president of AGAPE and New Europe Vision (evangelical relief ministries in Croatia and Bosnia), he takes an active role in ministering to the physical and spiritual needs of his fellow citizens.
An award winning writer, Dr. Kuzmic has authored four books, including a major study on the history influence of Slavic Bible translations upon their literature, languages, and culture. He has contributed to numerous compendiums, handbooks, and encyclopedias. A columnist for several religious and secular newspapers, he also serves as editor of Izvori, a Christian journal in the Croatian language. He is also on editorial and advisory boards of several international journals, including the European Journal of Theology, Evangelical Review of Theology, Religion in Eastern Europe, Transformation, and Teologija I praska.
Dr. Kuzmic is chairman of the Theological Commission of the World Evangelical Fellowship, a member of the Lausanne Committee for World Evangelization, and a member of the International Board of AD2000 and Beyond.
Dr. Kuzmic and his wife, Vlasta, have three daughters.